Everything you want to know
Custom Hammock Introduction
our team of expert designers can work with you to create a perfect hammock that is tailored to your needs
01 Know the structure of a hammock at first

Normally, a basic hammock is made up from hammock body (fabrics), gathering ends, carabiners, suspension ( ropes or webbing straps) and a protable sewn -on stuff bag.
Some jungle hammock might have a builted -in bug net as well.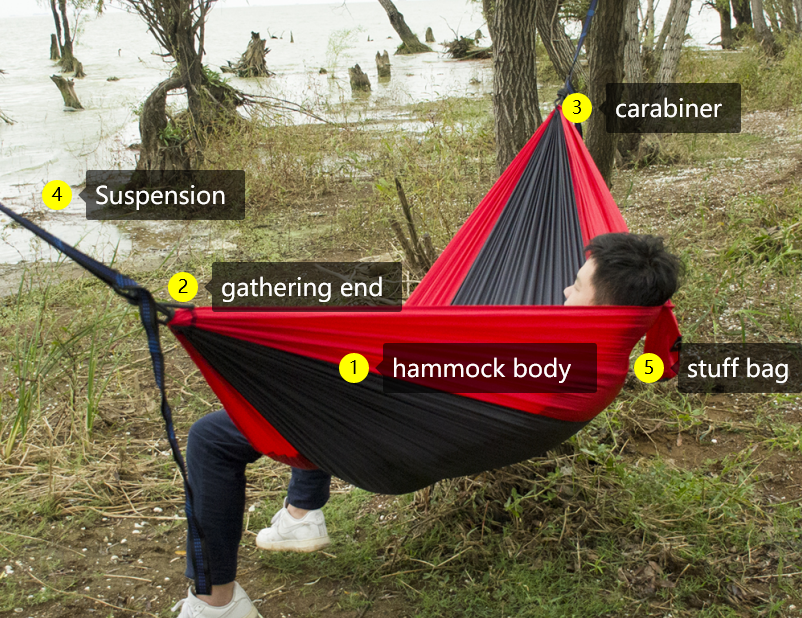 02 Know hammock sizes and styles
There are various camping hammocks for different purposes. Below are the main and popular hammocks which we are manufacutring for our clients:
03 Know Hammock Fabric Materials
There are many fabric options for a hammock, mainly are 3 kinds of fabrics are mostly accpeted from the market: Nylon, polyester, and reccyled.
Nylon: 70d crinkcle taffeta/ 70d ripstop/ 40d ripstop/ 20d ripstop
Polyester: 340T polyester pongee
Recycled : 70d nylon taffeta/ 340T polyester pongee

04 Know Hammock Gathering Ends
It is hard to tell which ways of gathering end is the best, but it is selected by appetites in weight, loading capacity, and ease of use : rope knots, webbing strap loop, and UHMWPE continuously loop.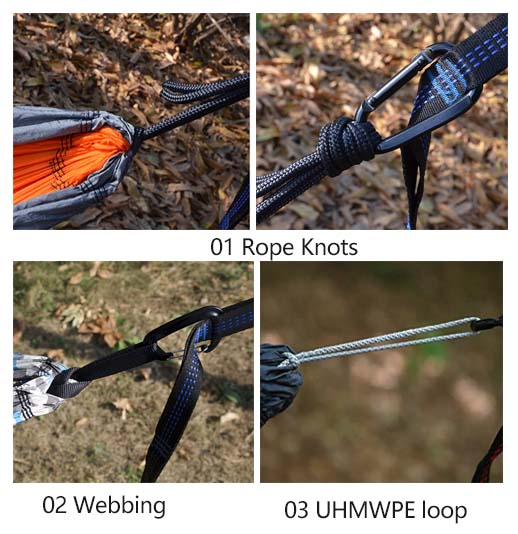 Our regular carabiners are :
galvanized steel 5 KN
black steel 5 KN
6061 Aluminum wire gate 5 KN
7075 Aluminium wire gate 5 KN

Below pictures are regular rope knots and straps for hammocks we manufacture:
All UHMWPE materials can load weight over 1500 lbs.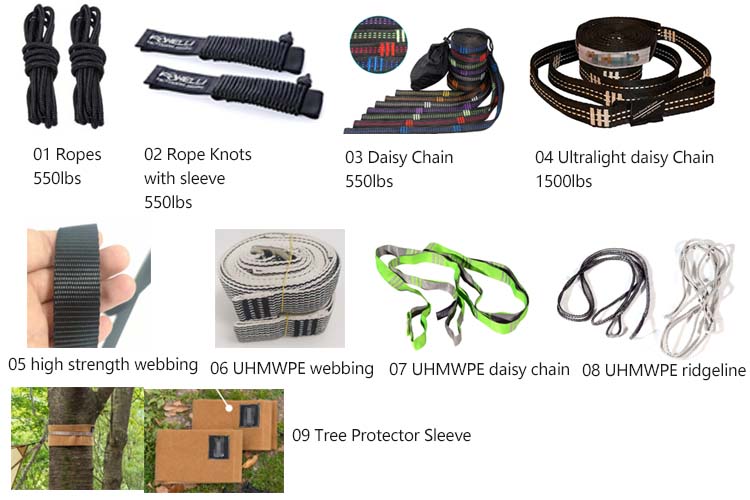 A good design stuff bag defenitely adds vaule to the hammock.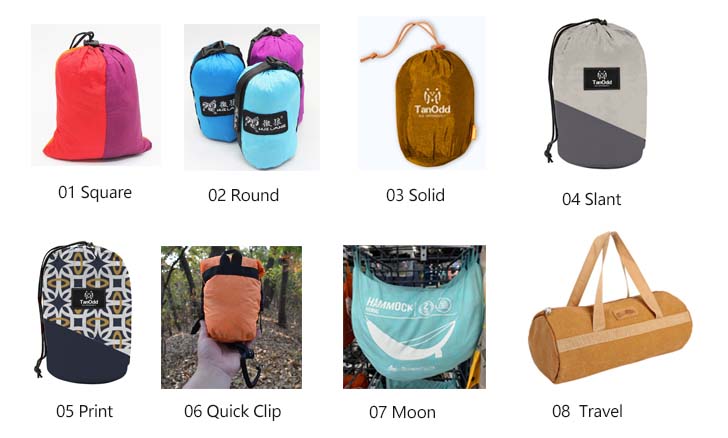 08 Customized Logo Positions
Hammocks are a good product for adding your branded logo on.
you can add a logo on anywhere you can imagine with.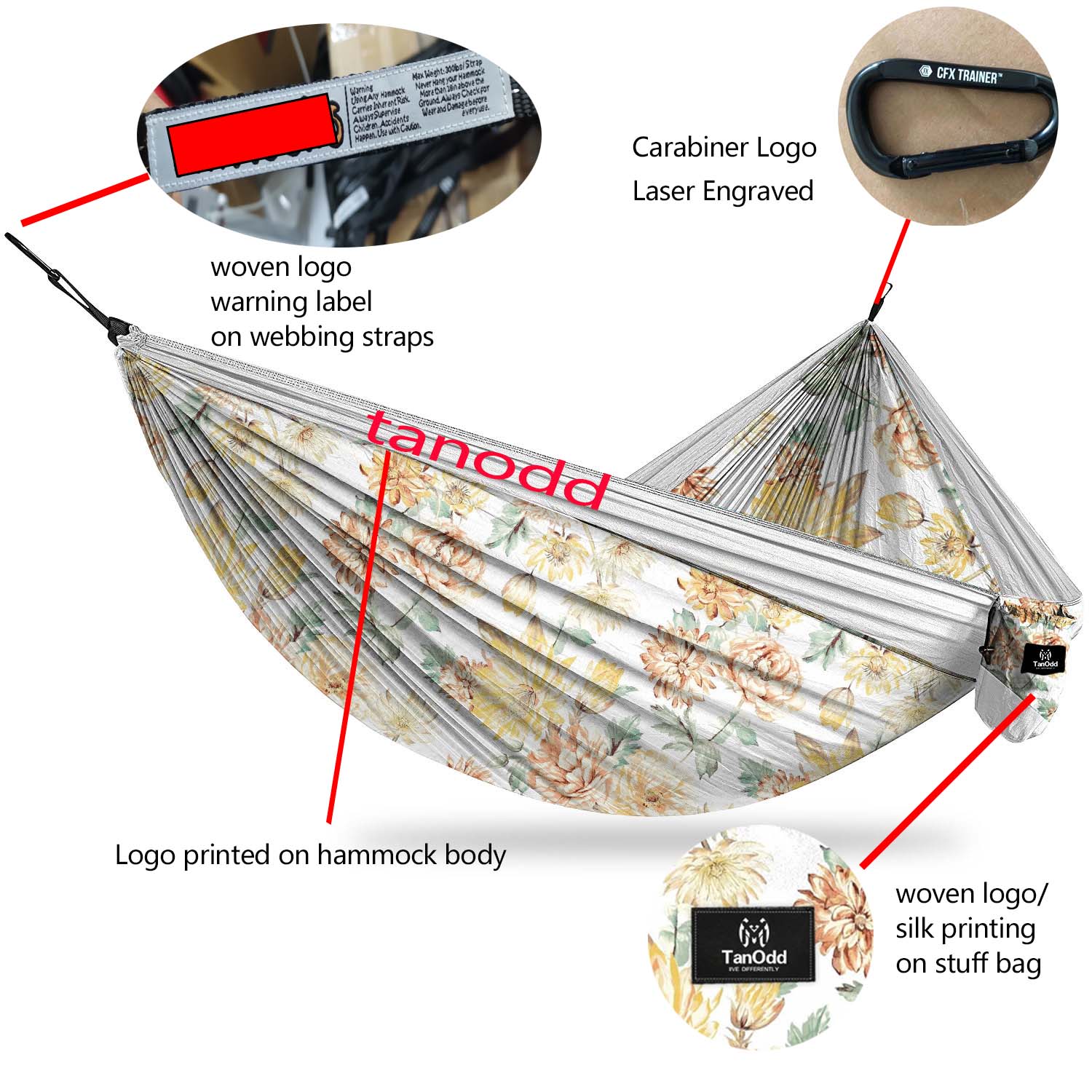 09 Hangtags/ Instructions/ Care Labels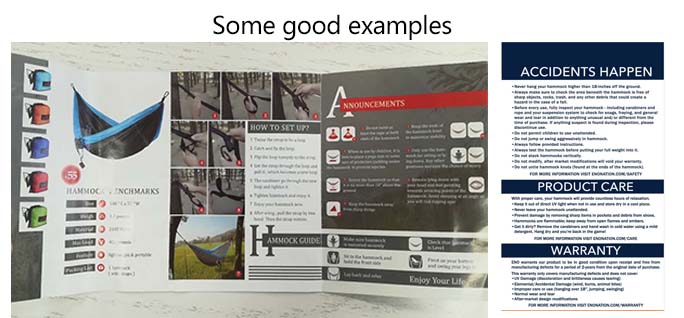 Necessary and important !!!

Hangtag/instruction/ care labels  are not a thing just there to tell the customer how much your hammock costs. they should work to attract attention. Tell the customers all about your company and this project, and what they can expect from your hammocks.
As well as how to use and mantain hammocks. Those will help to improve the users' experience and make a good impression on your company and brand.
Not only are they important for the end-user, but they can support brand identity and increase awareness.
Normally, a hammock is packed into an opp bag, then put into master carton box.
There is acceptable for gift packaging ways in: gift box, display box, head card etc.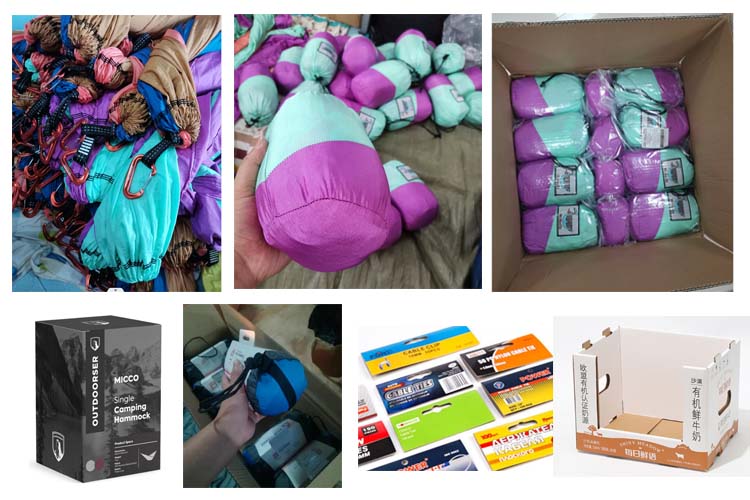 11 Know Hammock Products Compliance Audit
A good hammock should be compliance to the environmental, health and safety. And yes, consumers care if our hammock product is ethical and legitimate.
Please click below link to see and download the test protocal for hammocks products.
Link (Click to Open) : Test Protocal For Camping Hammocks
Hammocking is asimple and easy to set up for enjoying outdoors, as long as basic safety precautions are followed.
Loading Capacity : the load capacity of hammocks quoted is the static load capacity, so to know the maxium loading capcity and half it, you probably get a safety dynamic loading capacity.
 Inspect Hammock: The hammock should  be inspected for any tears, abrasions or other imperfections that can cause it to tear while in use.
Set Up Properly : Make sure the hammock is hung securely (no more than 50 cm off the ground) and in a safe place – it should be "clean" under and above the hammock. Check that the pillars (e.g. trees) to which you attach the hammock are solid enough and at the right distance and make sure that the attachment hardware (carabiners, slings, ropes, knots) are in good condition.
Always Be Caution : sit down slowly in a hammock before you settle into it. Before climbing into a suspended hammock always turn it inside out to get rid of anything that nature may have thrown in it (sharp objects, stones, twigs, cones, needles, leaves, insects).
 Keep away of Sharp objects :Do not lie down in a hammock with stuffed pockets – any sharp object (keys, keyrings, knives…) may damage the fabric. Don't forget about the belt or shoe buckles, protruding zippers, sharp edges of credit cards, or combs – all of these can damage the texture of the hammock's cover.
Take special care with fire. The easiest way to check the safe distance is a simple test: hold your hand out towards the fire. If the heat is so intense that you can hardly stand the temperature on the skin of your hand, your hammock is hanging too close to the fire. Pay attention to the direction of the wind, it should blow from the windward side, in the opposite direction to where your hammock is hanging. A spark from a campfire brought with the wind can burn or melt the fabric. A spark from a smoldering cigarette can be just as dangerous, so think twice before lighting up one while lying in a hammock.
Take hammock safety seriously. Fully conscious hammocking minimizes the risk of hazardous events, just as compliance with the provisions of the Highway Code prevents most accidents on the road and health and safety regulations prevent the occurrence of dangerous situations in the workplace.These are just a few simple, intuitive rules. And a whole lot of unique impressions that hammocking brings with it.
Note: contents are quoted from https://bushmen.pl/en/hammock-safety-rules/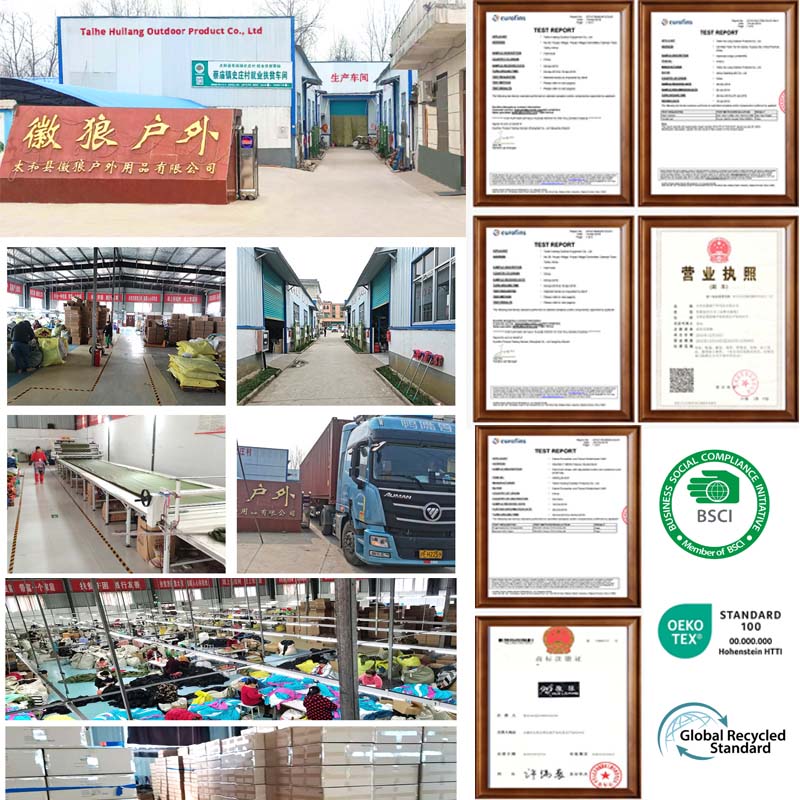 A Brief Introduction About Our Hammock Factory
We are now becoming one of the most rapid-growing companies in the camping gears industry, mainly in manufacturing custom camping hammocks and blankets.
We are a company with members, who are integrity, handling your project in a friendly, courteous, helpful, timely, and professional manner, to result in a very high level of your satisfaction.